Amakhala Game Reserve
Amakhala Game Reserve is located in the malaria-free Eastern Cape of South Africa. The Game Reserve offers a wide variety of  3, 4 & 5-star owner-managed experiences and Safari Lodges.
Amakhala Game Reserve boasts 18,000 acres of Big 5 territory and you are highly likely to have excellent sightings of Rhino, Lion, Buffalo and Elephant, while the more elusive animals encountered could include the bat-eared fox, hyena or even a leopard.
The private Game Reserve offers guests accommodation in a selection of 10 luxury establishments made up of restored Country houses, Safari Lodges and Tented camps located in different areas of the large 18 000 acres Safari park.
Excellent Wildlife

Excellent opportunities for encounters with all of the Big 5 and much more.

Game Drives

Open vehicle game drives are the best way to get close to these majestic animals. Experienced rangers deliver once-in-a-lifetime moments.

Superb Safari Lodges

Acclaimed and varied lodges deliver luxury and convenience in a unique safari setting.

Night Game Drives

At night the bush comes alive once more as the nocturnal animals emerge. Vehicles are fitted with spotlights for optimal game viewing.

All-inclusive Packages

For complete convenience, most rates are all-inclusive and offers meals, drinks, activities and more as part of the price.

Based on millions of reviews we've been awarded one of the Top 10% Attractions worldwide!

Tripadvisor Travelers' Choice 2020
Explore
Find out about the fabulous accommodation in Amakhala Game Reserve
Activities Spotlight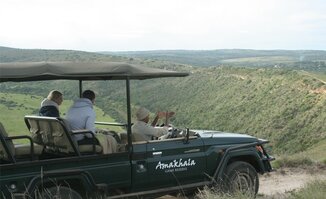 Game Drives
Rest your feet while going deeper and farther than you ever thought possible for up-close game encounters. The game drives leave just before sunrise, ensuring that you get to see the entire bush wake up. The feeling of excitement and being at one with nature is indescribable.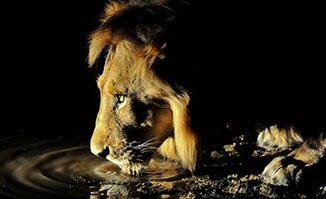 Night Game Drives
As the sun sets over the horizon, the African bush is awash with colours and sounds. The evening dawns and the nocturnal animals come out from their sleeping spots. Night time is when new adventures are to be had while on safari.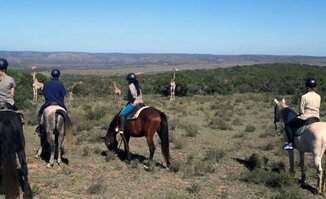 Horse Trails
Get up close with antelope and giraffe while on horseback on a 2 - 3 hour excursion for a unique experience.  Rest assured that you are safe - this takes place in areas away from the Big 5 and predators!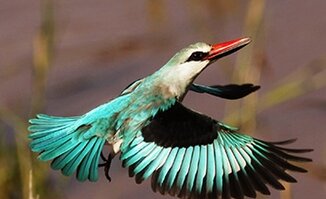 Birding
Amakhala Game Reserve offers many different bird species for the avid birdwatcher.  In fact, with over 250 species recorded, Amakhala is a good year-round birding destination - the best though is from November to April, to view the migratory birds from north Africa and Europe.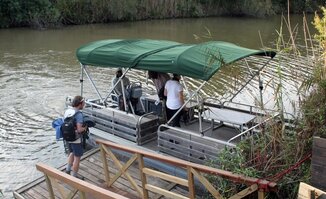 River Cruises
Take a river cruise on the beautiful Bushmans River while on Amakhala.  Other than the total relaxation it offers, it is great for animal spotting, including the rare Cape clawless otter, other animals such as the endangered black wildebeest and Burchell's zebras, and of course the stunning array of birdlife.
Wildlife of Amakhala Game Reserve
Amakhala Game Reserve boasts 18,000 acres of Big 5 territory and you are most likely have excellent sightings of Rhino, Lion, Buffalo and Elephant, while the more elusive animals encountered could include the bat-eared fox, hyena or even a leopard.
With day and night game drives lead by expert rangers, you will have the privilege of seeing world famous African wildlife in their natural habitat.
Amakhala has an array of animals including the Big Five (Buffalo, Rhino, Elephant, Leopard, Lion). Both black and white Rhino are present are regularly seen. An abundance of several antelope species can be spotted as well including kudu, red hartebeest, springbok and blesbok.  Amakhala is involved in a relocation project for cheetah and this charismatic predator is one of the reserve's flagship species
Sighting of the rare Cape clawless otter is usually enjoyed with a river cruise on the Bushman's River. The endemic black wildebeest species is a regular sighting, often roaming with the Burchell's zebras. On night drives the elusive Caracal is sometimes spotted.
Birding safaris at Amakhala Game Reserve is ever popular and a year round activity. Migratory birds from Europe are prevalent during November to April.
Go on a discovery of prehistoric bushmen burial ground or Africa's ancient dinosaur fossil sites.
Amakhala and other smaller parks, as well as the Kruger National Park, are at serious risk to Rhino poaching unless rhino monitoring programs and other security measures are implemented and maintained. A Conservation Levy is essential to assist in the significant costs associated with multi-layered anti-poaching measures on Amakhala Game Reserve.
The Conservation Levy will primarily fund the anti-poaching units and a dedicated rhino monitoring program to preserve and protect the rhinos of Amakhala Game Reserve.

Enquire Now!
Let Us Help Plan

Your next Vacation